Trump praises US help for stricken Puerto Rico
Comments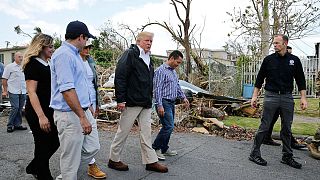 US President Donald Trump has praised the "great job done by his administration" to help hurricane-hit Puerto Rico.
On his first trip to the island since its pummeling by category 4 Maria two weeks ago, he told local officials they should be proud they did not lose thousands of lives as in "a real catastrophe like Katrina."
"What's happened in terms of recovery, in terms of saving lives,16 lives, that's a lot. But you compare that to the thousands of people who died in other hurricanes and frankly were not nearly as severe."
Welcoming POTUS</a> <a href="https://twitter.com/realDonaldTrump?ref_src=twsrc%5Etfw">realDonaldTrump today in Puerto Rico so that he can learn firsthand our situation in the aftermath of Hurricane María. pic.twitter.com/3jFdm1HCQl

— Ricardo Rossello (@ricardorossello) October 3, 2017
Trump's government has been criticised for failing to respond adequately to the crisis. Leading the criticism has been the mayor of San Juan, Carmen Yulin Cruz who has who compared the alleged lassitude to "genocide".
Trump's trip has been to reassure the island's struggling residents that his government is committed to their recovery after being hit by the worst hurricane in 90 years. He even joked at one point that the island was straining the US budget.
"I hate to tell you, Puerto Rico, but you've thrown our budget a little out of whack because we've spent a lot of money on Puerto Rico." he said. " and that's fine. We have saved a lot of lives."
The majority of Puerto Ricans are still largely without electricity, communications and access to clean drinking water and food.