Looming dam disaster in Puerto Rico
Comments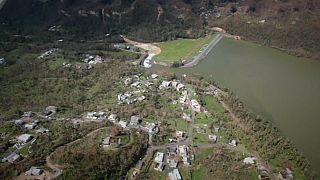 Puerto Rico's governor has met mayors from around the US territorial island of Puerto Rico after surveying damage to an earthen dam that was threatening to collapse from flooding in the aftermath of Hurricane Maria.
Hundreds of people who live downstream from the compromised dam, which has formed a lake on the rain-swollen Guajataca River, were under orders to evacuate, with the structure in danger of bursting at any time.
"We saw directly the damage to the Guajataca dam," Governor Ricardo Rossello said in a Spanish-language Twitter message on Saturday while reinforcing his request that people leave the area as soon as possible.
"The fissure has become a significant rupture," Rossello said separately at a news conference on Saturday.
The US National Weather Service said on its website the dam was still in danger of failing and triggering life-threatening flash floods.
"Stay away or be swept away," it warned.