Diplomatic pressure grows to stop Kurdish independence vote
Comments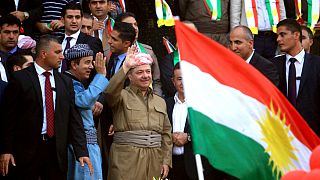 British Defence Secretary Michael Fallon became the latest western politician to meet Iraqi Kurdish leaders in Irbil on Monday (Sept. 18) to try to persuade them to postpone their independence referendum.
Numerous representatives from the United Nations and European Union have already attempted the mission.
The West, Baghdad, and Iraq's neighbours fear the September 25th vote will further destabilise the region.
Turkey has already begun military drills on its border where Iraq's semi-autonomous Kurdistan lies.
Ankara fears a "yes" vote will fuel separatism among its own Kurdish population where outlawed PKK has waged an insurgency for three decades.
"Those who are chasing dreams in Syria and Iraq should know very well that any attempt that threatens our national security, from inside or outside our borders, will be immediately retaliated in kind," Turkish Prime Minister Yildirim said in a speech in the southern Turkish town of Sanliurfa.
The Kurdish leadership however, has shown no signs of bowing to pressure,but locals in Irbil, the region's capital, are divided.
"If the whole world was against us, we'd do it anyway. If it's Iraq, Syria, Turkey, Iran, no matter who. If they encircled us with fire, we'd do it anyway. We have been waiting for this day for years," said Ramazan a peshmerga fighter.
I choose #Kurdistan.
I vote #YesKurdistan
What path do you choose? pic.twitter.com/lvqYJeOWej

— Baxtiyar Goran (@BaxtiyarGoran) September 17, 2017
"If as I have heard Iraqi Shiite militias, launch an attack and fight, we might lose because we have already fought Daesh or Islamic State and now fight with them too? And on the other side if the Iranians and the Turks are closing the border it could get very nasty," was the fear on a local shop owner in Irbil.
It is has long been a dream of Kurds to have their own state. But there are western concerns over a possible confrontation with Turkey distracting from the fight against self-styled Islamic State.Iraq's Supreme Court has order the poll must be suspended.
Iraqi PM Abadi formally demands suspension of Kurdistan independence vote https://t.co/Yq3FiLTitMpic.twitter.com/IomUocyT0B

— Reuters Top News (@Reuters) September 18, 2017