Asian Games kick off in Ashgabat
Comments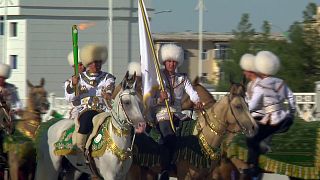 The arrival of the official flame has kicked off the 5th Asian Indoor and Martial Arts Games in Turkmenistan's capital Ashgabat.
It's the end of the torch's 500-day nationwide odyssey on the back of the Akhal-Teke, an ancient horse breed from Turkmenistan that has become the symbol of the Games.
The equivalent of $5 billion have been spent on brand new venues that have made a strong impression on visitors. Many hope the event will open a new page in their country's sporting history.
"We are very happy for our city, and very excited about this event! It took us a long time to get prepared for it! We all came here together, the whole family is here," said one enthusiastic fan.
"These Asian Games will obviously inspire our children. This is just the beginning. We will score great victories in the future," said another.
Thousands of athletes from 65 delegations across Asia and Oceania are competing in 21 sports, including both traditional Olympic, as well as non-Olympic and Asian sports.
The 5th Asian Indoor and Martial Arts Games run until September 27.