Asian Indoor and Martial Arts Games end on a high note
Comments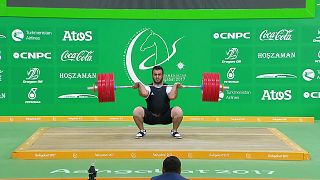 The Fifth Asian Indoor and Martial Arts Games came to an end.
Ashgabat will go down as the first central Asian city to host these games. And it will be remembered for the records that tumbled here.
It was an 18-year-old weightlifting world record and Iran's Sohrab Moradi broke it. He snatched 185kg and clean & jerked 228kg to set a aggregate total of 413kg.
For the 29 year old it was a case of if at first you do not succeed …. try, try again.
"I worked very hard during the last 4 years to break this record, 24 hours a day practically," said Moradi.
"I wanted to do it during the Olympics in Rio, but I couldn't. So I trained one more year and finally here I broke this record!"
The sound of salsa and other dance melodies filled the air on the last day of competition in Ashgabat.
China and South Korea traditionally perform well here in the dance categories.
But nobody expected a victory from Trung Kien Nguyen and Hong Anh Pham from Vietnam, who only learnt to dance salsa a few months ago
"Two month ago I started salsa with my teacher, but it was so hard. Amazing, amazing, said Nguyen."
"Amazing. I am very very happy."
After 347 medal events that's all from the Fifth Asian Indoor and Martial Arts Games.