Hamad Al Attiayah shines for Oman at Asian Indoor and Martial Arts Games
Comments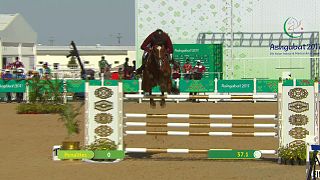 Hamad Al Attiayah is the rising star of the Qatari team, and he shone the brightest on day nine of the fifth Asian Indoor and Martial Arts Games.
The 22-year-old helped Qatar win silver in the team event and then won the individual title in a seven-man jump-off.
Al Attiayah beat Saudi Arabia's Khaled Abdulrahman S Almobty by a little over a second.
Al Attiayah says the key to his success is his unique bond with 10 year old horse, Clinton.
At the Akhal-Teke Cup, riders naturally compete on Akhal-Teke horses, which are native to Turkmenistan and thought to be one of the oldest existing breeds in the world.
Twenty-two-year old Nikolai Beglaryan from Turkmenistan won the gold in the event. He explained that this victory was a very hard fought one as he had to compete with more experienced riders.
"I did not understand at the beginning, and did not even feel anything, I was in a state of shock, because it was very difficult, I had very serious and strong competitors."
Equestrian Jumping became an Olympic sport in 1900. It is one of the few sports where men and women compete together.
The Asian Indoor and Martial Arts Games continue until September 27.