Turkmenistan's Akhal-Teke: the world's oldest horse
Comments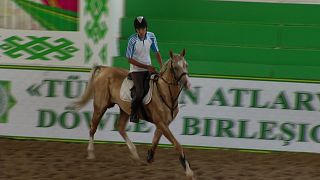 The Akhal-Teke is one of the most beautiful and oldest equine breeds in the world.
There are only 8.000 in the world, and 1.000 of them can be found at a horse complex near Turkmenistan's capital Ashgabat.
The Akhal Teke originally comes from Turkmenistan but numbers dropped after some of the best horses were taken to Russia under the Soviet regime. The objective today is to try to breed more.
"We have about 40 stallions in this part of the complex. 200 foals were born here this year," says groom, Imam Synykov.
The starting price for an Akhal-Teke is impressive – around $100 000.
Why are they so expensive? They are known for their endurance having had to adapt to extreme weather conditions in the desert where they originate from. This makes them an ideal competition horse. But they are also known for their feisty temperament.
"It is an easy-going animal when you are riding it. It's really nice to work with it. But when you are no longer riding it, it gets out of control," says rider Fagilya Zaripova.
The horses are currently undergoing training ahead of the Asian Indoor and Martial Arts Games in Ashgabat in September.