Running to find peace and fight prejudice in Ashgabat
Comments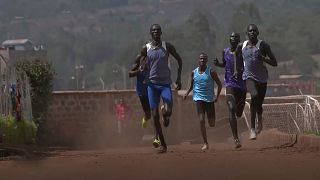 They run against prejudice. For the first time a refugee team is taking part in the Asian Indoor and Martial Arts Games.
The five athletes are originally from South Sudan, now they live in Kenya.
Kenyan long-distance runner Tegla Loroupe holds the world record in the 20, 25 and 30 kilometers.
She, herself, had to run 20 kilometers a day from the age of seven. It was the only way to get to school.
She is the coach and the mentor of the Refugee team.
"Nothing impossible for this athletes and and sport is a key that can help somebody who has been in trauma.
"What I dream of is seeing these young sportsmen and women having medals in the future and a better life and education. Now they are in schools. I encourage them not just to run but also to balance their lives between education and sports."
Tegla recruited her team in a refugee camp in Kenya. The athletes came to Ashgabat to support those who had to run away from their countries to save their lives.
"Refugees are not criminals," says Gai Nyang Tap "they are not bad people. It is only violence that makes them to flee away to be a refugee. And the sport is an example of the peace."
The athletes were disappointed not win any medals. But it is not the winning that counts but the taking part.
For Wiyual Puok Deng, a runner, the highlight for him was making new friends: "I have made some friends here, I know their names, they know me.
"My dream is when I succeed, I can help some refugees in the world."
Tegla's biggest dream is to see her athletes returning back home, to South Sudan where they will become ambassadors for peace and be successful in sport.