Typhoon hits Japan, grounding hundreds of flights
Comments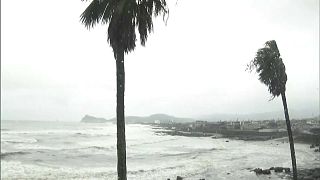 Typhoon Talim made landfall on the island of Kyushu in southwestern Japan on Sunday morning, dumping torrential rain and grounding hundreds of flights.
Talim, the 18th typhoon of the Pacific season, has been downgraded to a tropical storm, but it's still packing winds of more than 100 kilometres per hour.
In Kagoshima prefecture, authorities ordered the evacuation of 230,000 people and some 1,500 households were left without power, according to broadcaster TBS.
Authorities have warned of flash floods and landslides, as the storm could dump more than 8 centimetres of rain per hour onto some areas.
Typhoon Talim triggers evacuations in Japan amid record rainfall https://t.co/KKWtVEFmE0pic.twitter.com/jLJPj7Esq6

— Bloomberg (@business) September 17, 2017
#Typhoon#Talim impacting southern #Japan#Miyako island with strong winds, high storm surge and heavy rains pic.twitter.com/d1UTxmySvn

— Mario Picazo (@picazomario) September 17, 2017
Some residents huddling in emergency shelters were fearful of what may happen. Just two months ago at least 30 people were killed in the region's worst flooding.
"The mountains seem about to collapse. I think it will be okay but I am still scared," one elderly Asakura resident said.
Train services and flights were disrupted in Kyushu and the neighbouring island of Shikoku. More than 600 flights were cancelled.
The storm is expected to rip through western and northern Japan, including the Tokyo area, through Monday.
Talim, a Tagalog word meaning "Cutting Edge," forced more than 200,000 people to evacuate in China earlier this week.
Weakening typhoon slams southern Japan https://t.co/sVtLu4SeWn#japannewspic.twitter.com/ONspyFSfPf

— Japan Today News (@JapanToday) September 17, 2017