1977 hijacked plane to be restored in Germany
Comments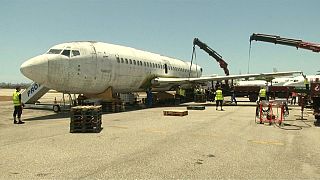 A German plane notorious for being hijacked in 1977 is being dismantled in Brazil in preparation for it's journey home.
The Boeing 737, known as Lufthansa Flight 181 was taken by The Popular Front for the Liberation of Palestine 40 years ago. 82 passengers and five crew members on board. The hijackers demanded the release of 10 imprisoned Red Army Faction leaders who were arrested after the murder of three German officials and businessmen.
During the hijacking, the plane went on a four-day journey through the Middle East, finally landing in Somalia where a German tactical unit retook it, killing three of the four hijackers.
Following the incident, it went back into service, before being decommissioned in 2008. The plane will eventually be displayed at the Dornier Museum in southern Germany.
The German ambassador to Brazil described the plane as "an important symbol for the successful fight against terrorism for this democratic state."