Protests at killing of senior Indian journalist
Comments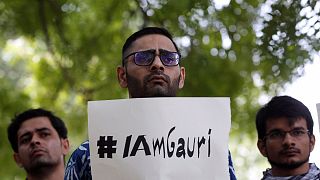 Senior Indian Gauri Lankesh was gunned down on Tuesday evening as she returned to her home in Bangalore, capital of the state of Karnataka.
Police say her assailants fled on a motorbike after shooting the veteran editor in the head and chest.
Lankesh, 55, edited a weekly independent magazine and was a vocal critic of right-wing and Hindu nationalist politics. In November, she was found guilty of defaming lawmakers from the ruling Bharatiya Janata Party (BJP) in a case she said was politically motivated. She had vowed to appeal the verdict and was released on bail at the time of her death.
India has seen a string of killings of independent journalists and critics of religious superstition in recent years, stoking fears of a rise in extremism and intolerance in the secular South Asian democracy.
People protested the assassination in several cities across India, including the capital New Delhi, and politicians from all parties have condemned the attack.
Lankesh was given a state funeral attended by the chief minister of Karnataka.