Royhingya violence: nearly 90,000 flee Myanmar
Comments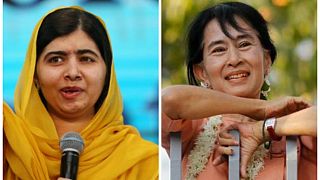 Aid agencies say nearly 90,000 Rohingya refugees have now fled to Bangladesh, since violence erupted in neighbouring Myanmar just over a week ago.
Myanmar's security forces and insurgents have blamed each other for atrocities and the burning down of Rohingya villages in north-west Rakhine state.
The bloodshed has left hundreds dead.
The treatment of Myanmar's roughly 1.1 million Rohingya is arguably the biggest challenge facing the country's de facto leader Aung San Suu Kyi.
Critics in the West have accused her of not speaking out against the minority's persecution.
Earlier, Malala Yousafzai, the youngest ever Nobel peace prize winner urged her fellow laureate to condemn the deadly violence, which Turkish President Recep Tayyip Erdogan has described as ''genocide"
Indonesia's foreign minister has also been deployed to meet Suu Kyi amid growing anger in the world's most populous country over the Rohingha's treatment. A series of protests have been held outside Myanmar's embassy in Jakarta.