Koreans react to sixth nuclear test
Comments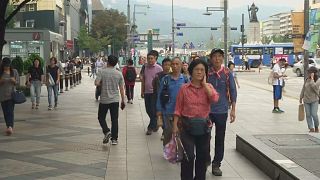 The mood in South Korea after North Korea launched its sixth and largest nuclear test was unsurprisingly more tense than usual.
In the capital Seoul some people said the provocation was nothing new, but others were clearly worried.
"As a Korean citizen, I feel very worried about this situation as North Korea keep launching missiles and conducting nuclear tests. I believe the whole nation is hoping a war will never break out," Seoul resident Yeo-Hyeon said.
"Another man, Sung Jong-Heon, said: "Both Kim Jong Un and Trump are unpredictable leaders. To be honest, it would not be strange if a war broke out, no one knows when a war will begin."
The border between North and South is always tense – it's one of the most heavily militarised in the world with around two million soldiers patrolling it.
But in the North Korean capital Pyongyang people appeared to be in celebratory mood.
"A bunch of new anti-American propaganda posters have been unveiled in Pyongyang. #InsideNorthKorea" willripleyCNN</a> <a href="https://t.co/1Q0SnUIdnG">https://t.co/1Q0SnUIdnG</a> <a href="https://t.co/dlNU71ryiA">pic.twitter.com/dlNU71ryiA</a></p>— Sarah Mucha (SarahEmilyMucha) August 29, 2017
"I feel great pride in how much our nuclear warheads have advanced in their precision. We can now perfectly rely on our operational ability," said Shin Seok-Chol.
"I am cheering with pride and honour to call myself part of the people of our great and respected leader, Kim Jong Un's nation,"another man, Jang Guk-Hwan, said.
But even if they are scared, North Koreans are unlikely to speak out as the government is so repressive.