French icon Mireille Darc dies, aged 79
Comments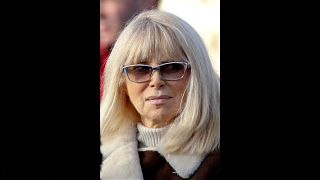 An icon of French cinema, Mireille Darc, has died, aged 79.
Her heyday was in the 60s and 70s, when she starred in films such as La Grand Sauterelle and Le Grand Blond avec une Chaussure Noire.
RIP Mireille Darc. First saw her in Godard's apocalyptic Weekend in which she had a very, very odd monologue to perform. A unique presence. pic.twitter.com/3qNOWJQwWH

— Tom Reagan's Hat (@andymannion777) August 28, 2017
For fifteen years, her life both on and off screen was spent with French actor Alain Delon.
#AlainDelon and #MireilleDarc leave a party in Paris, 1975. pic.twitter.com/L4mfbxacEF

— DrParloirs (@DrParloirs) August 28, 2017
Her lifetime's achievement was recognised by Jacques Chirac in 2006 with a legion d'honneur.