At least 20 dead in attack on Kabul mosque
Comments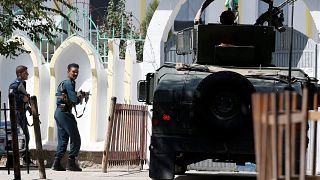 At least 20 people were killed and dozens were wounded during an attack on Kabul's Imam Zaman mosque. Children and police officers are among the dead.
One suicide bomber blew himself up at the entrance to the mosque as other assailants reportedly threw grenades.
Ghulam Reza saw what happened: "We were here, people were waiting for prayers to start, a suicide attacker came and killed the guards and fired on the other guard at the gate and killed him, then entered the mosque."
Security forces quickly surrounded the mosque after reports of gunfire and an explosion at around 1pm on Friday (August 25). They engaged the attackers in a gunfight that lasted several hours and left all the attackers dead.
The so-called Islamic State has claimed responsibility for the attack, which is just its latest against Shi'ite targets in Afghanistan.
Afghan President Ashraf Ghani condemned the attack and called on Islamic clerics everywhere to denounce terrorism.