London Zoo holds annual weigh-in
Comments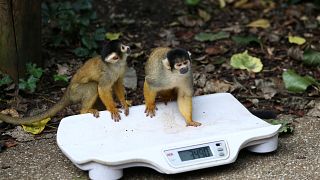 London Zoo held its annual animal weigh-in for residents of all shapes and sizes on Thursday.
Used as an opportunity to keep the zoo's records up to date, the measurement and documentation process takes many hours and zoo keepers.
A variety of tricks and treats are used to obtain the animals' vital statistics from dangling food above lions to enticing penguins onto scales with fish.
The data is then shared with zoos across the world.
Watch how the adorable animals at London Zoo get their weight checked by keepers at the zoo's annual weigh-in pic.twitter.com/tCqolpMEm0

— Press Association (@PA) 24 août 2017
"By sharing information with other zoos and conservationists worldwide, we can all use this knowledge to better care for the endangered species we're striving to protect," said Mark Habben, the zoological manager at ZSL London Zoo, which has more than 20,000 animals.
Checking residents' dimensions is also a chance to spot growing waistlines that can indicate pregnancies.
London Zoo has begun its annual weigh-in of all creatures great and small. More cute pictures here: https://t.co/txJxxZQs3Kpic.twitter.com/kJfAcsl1zG

— AP Europe (@AP_Europe) 24 août 2017
with Reuters