Angola: Ruling MPLA looks set for victory in elections
Comments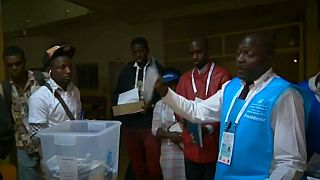 The votes currently being counted will determine the identity of Angola's first new president in 38 years.
Despite 15 polling stations failing to open, the National Electoral Commission says the parliamentary elections have run smoothly.
Ruling
MPLA

party

The ruling MPLA party says early indications show it'll win an unequivocal victory.

74-year old former President José Eduardo dos Santos will stay on as head of the party.

But it's expected that his former defence minister, João Lourenço, will be elected president.

Lourenço joined the party as a teenager and fought for independence from Portugal and in the civil war that followed.

In a country that's started to complain of political cronyism he has a reputation for relative probity.
UNITA
His main opponent is Isaías Samakuva of UNITA. His party earlier said their own tally contradicted the MPLA's confident prediction of a win.
A third way?
The Casa-ce alliance is hoping to beat both parties, its leader Abel Chivukuvuku having campaigned primarily on social issues.
An unofficial result is expected on Friday, but it could take up to two weeks for the last ballot boxes to be transported back along thousands of kilometres of road scarred by pot-holes.