Gutierrez & Ballejo take Salon Tango World Cup in Buenos Aires
Comments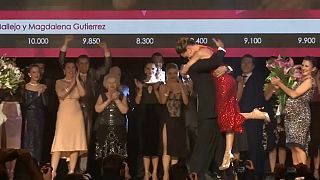 The grand final for the Salon dancers has taken place at the World Tango Festival and Championships in Buenos Aires.
A part of UNESCO's world's intangible heritage list since 2009, the dance was born in Argentina and every year its best practitioners battle it out here for world cup prizes. Some 2000 dancers from around the world took part.
However, to the delight of the crowd it was a home pairing who shone and took the first prize and the title of World Salon Tango Champions, against some stiff domestic and international competition on this, the world's biggest stage for the dance.
"The road is infinite, whether there is public recognition or not, to continue growing, continue dancing and continue enjoying it. I think that it's worth it. It is an experience that is worth it. It is a challenge and it always makes you grow,"said Magdalena Gutierriez as partner German Ballejo grinned from ear to ear..
After picking up the prize the pair once again performed the dance that won over the judges, and public.