Angolans cast ballots in landmark election
Comments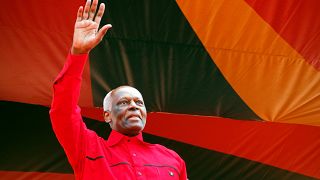 Angolans have been going to the polls in a bitterly disputed election that will ultimately produce a new president… the first in 38 years. With many voters knowing no other leader than President Jose Eduardo dos Santos, there is a mood for change.
Queues formed early in the capital Luanda as polling stations opened at 7am, with police and the military ensuring security.
The favourite in Africa's second-biggest oil producing country comes from the ruling party the People's Movement for the Liberation of Angola (MPLA), which is expected to remain in power despite a recession which has brought rampant inequality, inflation and unemployment.
"I feel good about voting for the second time. I hope things work out well afterwards," said one young man casting his ballot.
"It was easy to vote, everything is well organised, certainly better than in previous years," added a young woman.
"This is really an important day for our country because we're choosing the future leader. We hope that from this election we'll have the best among the six candidates," another man added.
The front runner from the MPLA, the current defence minister Joao Lourenco has pledged to boost growth and fight corruption. He is expected to remain in power but with a reduced majority.
Many Angolans remain loyal to his party that emerged victorious 15 years ago after a long civil war.
The party's main opponent will be its enemy during that war, the National Union for the Total Independence of Angola (UNITA), while young voters have been lured by CASA-CE, which was formed five years ago vowing to disrupt 50 years of two-party politics.
More than nine million voters are eligible to elect a new parliament whose leader will become president.