Police continue search for ringleader of Barcelona attacks
Comments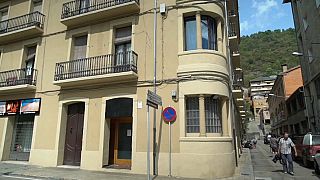 Police in Spain have been searching the home of a missing imam who is believed to have been the ringleader of an Islamic extremist cell that carried out vehicle attacks in Barcelona and the Spanish seaside resort of Cambrils.
The manhunt is the its ninth raid on homes in Ripoll so far, in their hunt for people connected to the attacks.
Neighbours said police came to the apartment of Abdelbaki Es Satty in the northern Catalan town close to the French border, with a search warrant authorizing police to remove any terrorism-related "weapons, ammunition, explosives, instruments, documents or papers".
Scraps of paper covered in notes were strewn around the flat, which had been turned upside down during the police search.
"I was sleeping. Then I heard lots of people. I was frightened. I thought it was the mafia or something. And then I heard: "Police!" and then we calmed down," explained El Jabouri Ayyoub, one of the imam's neighbours.
An official with knowledge of the investigation said authorities are looking into whether the imam was killed on Wednesday in a botched bomb-making operation in a house south of Barcelona.
The president of a mosque in Ripoll said the iman, suspected of involvement in this week's attacks in Spain, quit the mosque three months ago because he went to Morocco.
"The Imam was normal. Regular. Like Imams in all other mosques. We haven't noticed anything. Nothing ever. If we'd noticed anything, I would be the first one to call the police" said Ali Yassine.
Police have circulated to local officials details of four men they were searching for who all lived in Ripoll.
The four suspects had Moroccan nationality and they were named as Moussa Oukabir, 17; Said Aallaa, 18; Mohamed Hychami, 24; and Younes Abouyaaqoub, 22.
Their mothers and sisters who had gathered in the town's central square tearfully insisted they did not know what had happened to their sons and brothers.
"They were normal boys, they took care of me, booked my flight when I went on vacation, they all had jobs, they didn't steal," said Halima Hychami, mother of brothers Omar and Mohamed, which Spanish media say were both killed by police following the attack in Cambrils late on Thursday night.
"Mohammed called me and said he was on vacation until the 25 August. I asked him where he was and he said he was at the beach with his friends." she added.
The Muslim community in Ripoll have condemned the two deadly attacks iwhich left 14 people dead and over 120 injured.
Authorities have yet to identify the driver of the van and his whereabouts are unclear. None of the nine people arrested or shot dead by police are believed to be the driver.
Spanish media reported that 22-year-old, Moroccan-born, Younes Abouyaaqoub may have been the driver of the van in Barcelona, but police and Catalan officials could not confirm this.
Apart from Abouyaaqoub, authorities are searching for two other people though it is not certain they are at large.
One or even both of them may have been killed in Alcanar, where a house was razed by an explosion shortly before midnight on Wednesday, a spokeswoman for Catalonia's home affairs department said.
Police believe the house in Alcanar was being used to plan one or several large-scale attacks in Barcelona, possibly using a large number of butane gas canisters stored there.