Tourists return to Las Ramblas following terrorist attack in Barcelona
Comments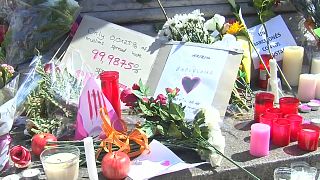 Las Ramblas is again thronged with tourists after the horror of Thursday's terrorist attack on Barcelona's famous promenade.
Floral tributes are laid by people from around the world part-pedestrianised street where 17-year old Moussa Oukabir killed 13 people and injured more than 100 with a van just 24 hours earlier.
"There is a mood of great sadness. Thank ggondess we stopped two blocks away from the attack. Every afternoon at the same time we went there to walk. But it was destiny that we decided to go to another place," said one Argentinian tourist.
"I've been living in Barcelona for 10 years." said another Italian resident. "The situation is a shock and it's even more shocking to see Las Ramblas closed. Usually there are flowers, people on the promenade, street artists. It's a very strange situation that touched the hearts of all of us who live in this city."
But the latest European city to be hit by a terror attack is also the latest to get back to work promptly and reopen in defiance.
Despite the sadness in the most emblematic street of Barcelona, residents and tourists say "no to the terrorism" just with their presence.