Trump disbands business councils after CEOs quit
Comments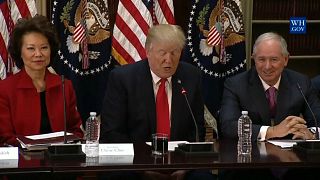 President Donald Trump has announced that he is scrapping two high-profile business advisory councils after yet more CEOs quit to protest the leader's handling of violent clashes in Charlottesville.
Trump took to Twitter to announce his decision to disband the Manufacturing Council and the Strategy and Policy forum after a series of business leaders left following his remarks.
Rather than putting pressure on the businesspeople of the Manufacturing Council & Strategy & Policy Forum, I am ending both. Thank you all!

— Donald J. Trump (@realDonaldTrump) 16 August 2017
For every CEO that drops out of the Manufacturing Council, I have many to take their place. Grandstanders should not have gone on. JOBS!

— Donald J. Trump (@realDonaldTrump) 15 August 2017
But the Strategy and Policy Forum said it was a joint decision to disband the council.
During a heated press conference on Tuesday, Trump blamed the violence in the Virginia city that left one dead, and several injured, not only on white nationalists but also on the anti-fascist protesters who opposed them.
The leader has faced growing backlash from all sides over his apparent defence of those who took part in the far-right rally.
Former Presidents George H.W. Bush and George W. Bush issued a joint statement that condemned "racial bigotry, antisemitism and hatred" the day after Trump's inflammatory comments.
Statement from Presidents George H. W. Bush and George W. Bush: pic.twitter.com/sdnLrAWWBC

— Tom Namako (@TomNamako) August 16, 2017
Meanwhile allies abroad have turned on the billionaire real estate mogul, with British Prime Minister Theresa May saying there was "no equivalence between those who propound fascist views and those who oppose them."
In Germany, where there are strict laws against hate speech and Nazi symbols, Chancellor Angela Merkel was quick to condemn the violence, while her opponent in next month's elections Martin Schulz called Trump's comments the "confused utterances" of a dangerous man.