North Korea delays decision to launch Guam attack
Comments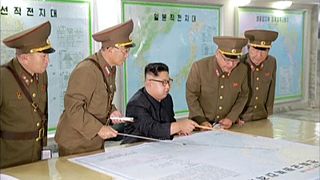 North Korean leader Kim Jong-un has delayed a decision to fire missiles toward the US-held territory of Guam. Kim inspected his army command on Monday and has been briefed on the plan to land four missiles near
the Pacific island. According to state-run media, however, he will watch American actions for a while longer before launching the rockets.
China is urging the US and South Korea to postpone a joint military exercise scheduled for next week, saying it will only increase tensions on the Korean peninsular.
US officials have in recent days played down the risk of an imminent conflict while stressing they are ready to respond to any attack from North Korea.
"We are putting all of the resources of the United States and the energies of this President behind an effort to resolve this present confrontation with North Korea peaceably," US Vice President Mike Pence told reporters on Monday. "But, as the President has said — said all options are on the table."
Last week, President Trump said America wouldn't hesitate to retaliate with "fire and fury" if North Korea continues to threaten the US and its allies.
​