Major search for victims of Sierra Leone mudslides
Comments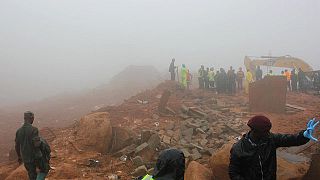 The scale of the mudslides and floods in Sierra Leone that have decimated part of Freetown is becoming more apparent.
Hundreds are feared dead in the district of Regent near the capital after a hillside collapsed in the early hours of Monday following torrential rain.
The military, the police and Red Cross workers have been joining residents in searching for survivors and victims, and bringing out bodies.
The country's head of state made an appeal on TV.
"Let me urge everyone to remain calm and to avoid disaster-prone areas while we continue to address this grave emergency," President Ernest Bai Koroma said.
The mudslides swept away houses and people as they slept; whole families have been lost. Witnesses described roads being turned into "churning rivers of mud".
By Monday evening the death toll was put at over 300. More than 2,000 have been left homeless. Many bodies have already been recovered and the number of dead is expected to rise
The flooding after heavy rains brings with it fears of disease.
Deforestation and poor urban planning in the overcrowded coastal city are being blamed.
The disaster is another challenge for the African country – one of the poorest in the world, and still struggling after the Ebola crisis and a long civil war.
This is the deadliest case of flooding in Sierra Leone in recent memory. pic.twitter.com/WnlFZ6RjsC

— AJ+ (@ajplus) August 15, 2017
This is what a mudslide looks like. Israel</a> will deliver aid to our friends. <a href="https://twitter.com/hashtag/SierraLeone?src=hash">#SierraLeone</a> <a href="https://t.co/gXQaBUBtt6">pic.twitter.com/gXQaBUBtt6</a></p>— Paul Hirschson (paulhirschson) August 14, 2017