Denmark next to find contaminated eggs in food
Comments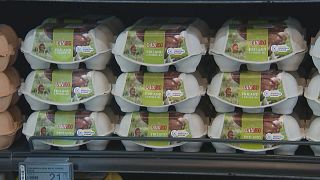 Denmark is the latest European country to discover eggs contaminated with insecticide in its food chain. Twenty tonnes of the tainted eggs have been sold, according to the country's food safety authority. The boiled and peeled eggs were mainly distributed to cafeterias, cafes and catering firms. The evidence of contamination emerged this month when Aldi pulled products off the shelves after Fipronil was detected in French, Belgian and Dutch poultry farms.
Nikolas Hove from the Danish Veterinary and Food Administration assured the public that there was no need to be too alarmed. The initial tests that were carried out on the eggs show that although levels of fipronil are illegal, there are no urgent health risks.
Dutch police arrested two company directors as part of an investigation to get to the bottom of the scandal, searching eight houses and seizing real estate, cars and a bank account.