Israel soldier begins jail term for killing Palestinian
Comments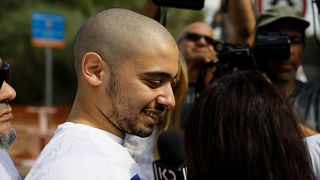 An Israeli soldier who shot dead a wounded Palestinian assailant has begun serving time in a military prison following one of the most divisive trials in Israel's history.
As he arrived, Elor Azaria was surrounded by a crowd of supporters who'd turned out to protest.
The 21-year-old former army conscript's manslaughter conviction and 18-month sentence were upheld by a military appeals court last month.
The events in Hebron in March last year were caught on video by a Palestinian human rights activist. Abdel Fattah al-Sharif had already been shot having reportedly tried to stab two soldiers.
More than 10 minutes later Azaria is seen firing at the man as he lay injured on the ground. The soldier claimed in court he feared al-Sharif might be hiding an explosive belt. Senior generals said he was not in danger and stressed the importance of upholding the army's code of ethics.
The case has polarised opinion. Acaria, who's expressed no regret, goes to jail amid a clamour for clemency among many Israelis.
For many Palestinians his 18-month sentence is far too lenient, arguing even Palestinian children have received longer terms for throwing stones.