Typhoon Noru takes aim at central Japan
Comments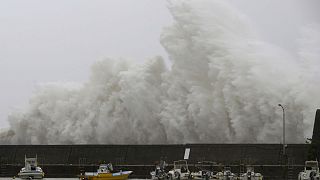 The world's strongest storm made landfall in Japan on Monday (August 7). A weakening Typhoon Noru drenched many regions with more than one month's worth of rain.
Typhoon Noru prompted evacuation advisories for tens of thousands of residents, as it approached the Japanese heartland. The country's public broadcaster NHK reported more than 400 flights cancelled because of the storm.
Noru whose name is the Korean word for a type of deer, has been heading northwest for the last few days.
There have been fears that it could brush past Tokyo on Tuesday, however by then was expected to have weakened to a tropical depression.
Some parts of central Japan were likely to see 500mm of rain in just 24 hours.