Anti-tourist demos spread from Barcelona to Mallorca
Comments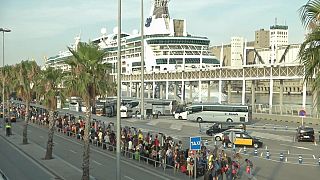 Barcelona attracts millions of holidaymakers each year for its sun-soaked beach front and bustling nightlife, but some locals are growing fed up with tourists.
In late July, a group of masked men targeted an open-top tour bus, slashing its tires and scrawling graffiti onto its sides. Some terrified tourists on board first thought it was a terror attack.
The message, in Catalan, read "Tourism Kills neighbourhoods". The action was claimed by a group of radical leftists affiliated to the separatist Catalan political party, the Candidatura d'Unitat Popular (CUP; Popular Unity Candidacy).
Their actions appear to be gaining momentum across Spain.
Is Barcelona trying play down news of anti-tourism attack last week? https://t.co/INFjrTShaY

— El País in English (@elpaisinenglish) August 1, 2017
A radical group that has attacked a tourist bus used by British visitors in Barcelona has now struck in Majorca https://t.co/ag8OsbqnQVpic.twitter.com/FUJqDF88sA

— The Times of London (@thetimes) August 2, 2017
Flares and confetti
This week in Mallorca, youths stormed a restaurant on the Marina, armed with… red flares and confetti.
Restaurant manager Carmen Sanchez Solano said several customers were having dinner when a group of people came carrying banners.
"We thought it was a small demonstration," she said. "They threw coloured smoke bombs into the restaurant. Several girls wearing masks attacked the customers."
Arran, the radical movement behind the attacks, has been vocal about the impact the mass travel industry is having on locals' quality of life.
"We want to denounce the destruction of the territory and the exploitation of the working class by the hotel industry," said Pau Pico, Arran's spokesman in Mallorca.
"In no case was the action violent – banners were displayed, confetti was thrown .. And we've planned a series of actions throughout the summer".
As in Barcelona, many in Mallorca seem to have become allergic to tourists – even as the island lives off the industry.
Arran protesta contra la masificación turística en Palma https://t.co/5IzDzEcZoMpic.twitter.com/9V3yRhJI6n

— Diario de Mallorca (@diariomallorca) 1 de agosto de 2017
Aparecen pintadas en Blanquerna contra los pisos turísticos https://t.co/VK6GLsFPRd

— Diario de Mallorca (@diariomallorca) 3 de agosto de 2017