Thousands march in Jerusalem's 16th Gay Pride Parade
Comments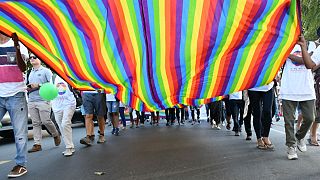 Thousands today (August 3) turned up to march in in Jerusalem's 16th Gay Pride Parade.
The event has seen several violent incidents over the years including the stabbing to death of a teenager by a Jewish extremist last year.
This year's theme is "religion and LGBT," according to The Jerusalem Post.
Hundreds of policemen and police volunteers secured the march with all surrounding streets being closed off to traffic throughout the day and into the evening.