Israeli teenager stabbed to death in her bed by Palestinian
Comments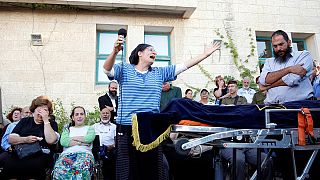 An Israeli teenager has been stabbed to death while asleep in her own bedroom at a Jewish settlement in the occupied West Bank, officials say.
A spokesman for the Israeli military says the 13-year-old died at her home in Kiryat Arba on the outskirts of the city of Hebron.
A security officer called to the scene was wounded. Health workers say the 30-year-old is in a serious condition in hospital.
The alleged attacker was shot dead. He has been identified by Palestinian officials as a 17-year-old from a nearby village.
"Our revenge will be to keep building on this land"
The teenage victim is a distant relative of Israeli Agriculture Minister Uri Ariel.
"The vengeance of the Lord is the vengeance of the Lord," he told reporters, "but our vengeance will be to continue to build on this land."
A recent upsurge in violence
Palestinian leaders say assailants have acted out of desperation over peace talks which have been stalled since 2014 and Israeli settlement building in the territory that Palestinians want for a state.
Over the past eight months, Palestinians have killed:
33 Israelis
Two visiting US citizens
Israel says incitement in the Palestinian media and personal problems at home have been the factors spurring assailants, who are often teenagers, to launch attacks.
Over the same time period, Israeli forces have:
shot dead at least 198 Palestinians
claimed 134 of them were attackers
Tensions over Jewish access to a contested holy site in Jerusalem have also fuelled the violence.
The site, known as Temple Mount by Jews, is revered by Muslims as Haram al-Sharif or Noble Sanctuary.