Massive opposition rally held in Pakistan after PM's resignation
Comments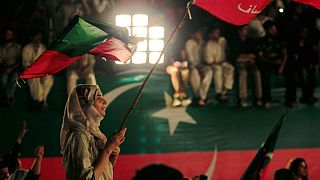 Thousands gathered in the Pakistani capital Islamabad on Sunday in support of opposition party leader Imran Khan before a meeting of parliament on Tuesday which will see a new Prime minister elected.
The crowds joined Khan in celebrating the ousting of former leader Nawaz Sharif, who resigned on Friday following a decision from Pakistan's Supreme Court to disqualify him from public office.
Addressing the rapturous crowds, Khan, who is Chairman of the Pakistan Tehreek-e-Insaf party said: "The Supreme Court verdict gave us a hope. It has done the job I dreamed for, it have laid the foundation for a new Pakistan."
Sharif stepped down after a probe into his family's wealth – following the Panama Papers leak in 2015 – linked his children to offshore companies.
Now his brother the Chief Minister of Punjab Shahbaz Sharif has been mooted as his potential successor, fueling rumours of nepotism within the ruling Pakistan Muslim League.
Former Petroleum Minister Shahid Khaqan Abbasi will act as interim Prime Minister until elections are held.