Court rejects appeal of Israeli soldier over manslaughter charges
Comments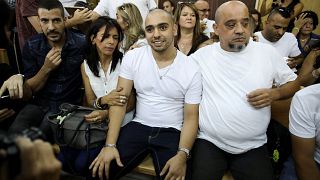 The appeal of a former Israeli soldier who was sentenced to 18 months' in prison for killing a wounded and incapacitated Palestinian assailant in the West Bank city of Hebron, has been rejected.
Elor Azaria appealed in March against a manslaughter conviction that could have sent him to jail for a maximum 20-year term, saying that he had acted in line with defence doctrines.
Three of Elor Azaria's defence attorneys said after the appeal was announced that they were quitting.
In a statement, they said he had received a "fantastic and seemingly impossible" sentence, appearing to suggest he should not put it at risk.
Azaria was discharged from the military this month, the end of his conscript service, and was placed under house arrest.
As the 21-year-old arrived at court in Tel Aviv, his supporters demonstrated outside, his mother draped in an Israeli flag.
The trial has been one of the most divisive in Israel's history. In one opinion poll, nearly half of Israeli Jews said any Palestinian attacker should be killed on the spot.
The Palestinian government said the 18-month jail term had given Israeli soldiers a "green light" to kill with impunity.