Cardinal Pell faces court over sex charges
Comments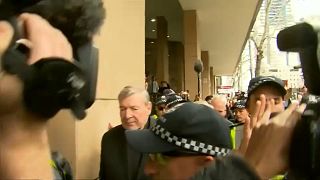 The most senior Roman Catholic official to face historical sex charges appeared in court in his native Australia on Wednesday.
Vatican Treasurer Cardinal George Pell, 76, a top adviser to Pope Francis, did not speak as he was escorted to and from the brief hearing in Melbourne.
He was not required to enter a plea. But his lawyer Robert Richter said he would be denying accusations which police say have been made by "multiple complainants".
Pell has previously said he was looking forward to his day in court to fight charges he said are false.
Cardinal George Pell faces court over historical sex offences >> https://t.co/a1fxG0hN5Ipic.twitter.com/jOGs90g7bS

— Herald Sun (@theheraldsun) 26 juillet 2017
Supporters and opponents of the Cardinal, carrying religious icons, were out in force.
"Shame on your religion! Shame on you! Pass the message to the Pope," one woman cried.
"Innocent until proven guilty! This is an accusation. This is a nonsense to do this," shouted another.
Pell is on a leave of absence from his Vatican role as Francis' economy minister, which he started in 2014.
The pontiff won't comment on the case until it is over but the charges against Cardinal Pell bring the Church's global sex abuse scandal to the heart of the Vatican.
The Cardinal and the chaos outside court. Coverage by sharp shooters Joe Armao, Justin McManus, and Jason South. https://t.co/vIqxAO571Bpic.twitter.com/94vXfMVRQE

— The Age Photography (@theage_photo) 26 juillet 2017
with Reuters