Taliban claims deadly Kabul bomb blast
Comments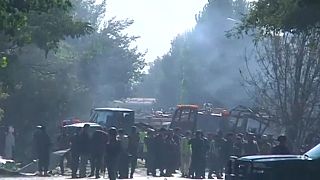 A suicide attacker detonated a car bomb in the western part of Kabul on Monday, killing at least 35 people and wounding dozens more, according to an Afghan government official.
It happened in a mostly Shi'ite neighbourhood when a car packed with explosives rammed a bus transporting government employees.
The Taliban has claimed responsibility.
Police cordoned off the area, located near the house of the deputy government Chief Executive Mohammad Mohaqiq in a part of the city where many of the mainly Shi'ite Hazara community live.
It comes exactly a year after more than 80 people were killed in a suicide attack in Kabul targeting the Hazara minority.
The Sunni extremist group Islamic State said it was behind that blast, its first attack on such a scale in Afghanistan.
At least 1,660 civilians have been killed in Afghanistan in the first half of the year.
1,662 civilians were killed in Afghanistan in the first half of 2017, surpassing last year's record https://t.co/kbGZwug1TR

— New York Times World (@nytimesworld) 17 juillet 2017
The latest attack comes as the US administration reviews its strategic options for Afghanistan, including possibly sending more troops to beef up the training and advisory mission already helping Afghan forces.
With agencies