Justine Damond shooting: Police chief Janee Harteau resigns
Comments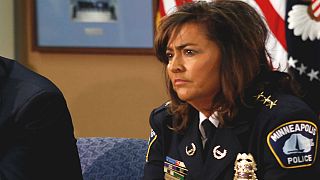 Minneapolis police chief Janee Harteau resigned on Friday, July 21 after the fatal police shooting of an unarmed Australian woman.
The city's mayor Betsy Hodges made the announcement after requesting her resignation saying she and the community had lost confidence in Harteau.
Justine Damond's death, from a single gunshot wound to the abdomen fired through the window of a police patrol car, has outraged the 40-year-old Sydney native's family and the Australian public.
Protests erupted during the press conference in which Ms Hodges made the announcement with one protester shouting: "Your leadership has been very ineffective, and if you don't remove yourself, we're going to put somebody in place to remove you."
In a statement yesterday (July 21), Chief Harteau told media: "Justine didn't have to die … this should not have happened."
Australian Prime Minister Malcolm Turnbull called the shooting "shocking" and "inexplicable" and said his diplomats were seeking answers from U.S. authorities.