Daughter of frozen parents feels a 'sense of calm' after discovery
Comments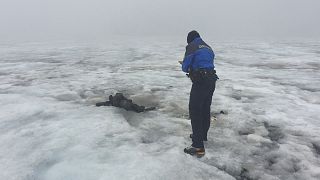 The daughter of a couple who went missing 75 years ago in the Swiss Alps says she feels "a deep sense of calm" after the discovery of their frozen remains.
"This gives me a deep sense of calm," said 79-year-old Marceline Udry-Dumoulin. "This year I planned to walk on the glacier on the fifteenth of August for the 75th anniversary of my parents' disappearance. But it's now my parents who came to me. I'm so happy. You can't even imagine. I can't really explain you that feeling. As I don't really remember my parents. I was four years old and just a small girl."
Marcelin and Francine Dmoulin had set off on foot to feed their animals in 1942 and never returned home to their seven children.
"It was the first time my mother went with him on such an excursion. She was always pregnant and couldn't climb in the difficult conditions of a glacier," Udry-Dumoulin said.
"After a while, we children were separated and placed in families. I was lucky to stay with my aunt," she said. "We all lived in the region but became strangers."
"For the funeral, I won't wear black. I think that white would be more appropriate. It represents hope, which I never lost."
Local rescue teams had spent more than two months searching crevasses before giving up.
Formal identification, with the help of DNA, will take several days.
Marcelin Dumoulin, 40, was a shoemaker, while Francine, 37, was a teacher. They left five sons and two daughters.
Frozen bodies of couple missing since 1942 found in Swiss Alps https://t.co/jHWO9PtQZNpic.twitter.com/yVFcY1LFkE

— euronews (@euronews) July 18, 2017