Woman shot dead in voting queue in Venezuela
Comments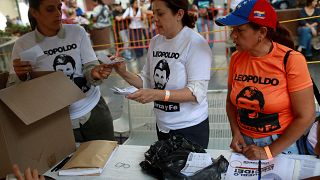 A 61-year-old woman has become the latest casualty of the political turmoil in Venezuela. Xiomara Soledad Escot, 61, was killed when several men on motorcycles opened fire on people queueing to vote in Catia, a poor, pro-government part of the capital, Caracas.
They were taking part in an unofficial and purely symbolic opposition-led vote aiming to heap more pressure on President Nicolas Maduro and his plans to re-write Venezuela's constitution. Opposition parties blame the shooting on pro-government paramilitaries.
Monitors of the referendum say 7.2 million people cast ballots, in a country of around 19 million registered voters. Among them was Lilian Tintori, the wife of opposition leader Leopoldo Lopez, who remains under house arrest. She said: "My response to today's referendum is 'yes, yes, yes!' Yes to freedom. Yes to democracy. Yes to respecting human rights. Yes to the people deciding."
Also on Sunday, the state had organised a dry-run for a upcoming, official vote on July 30 which could result in a new assembly with powers to write a new constitution. Former foreign minister Delcy Rodriguez hailed this as a "constitution for peace and the sovereignty of Venezuela."
Venezuela has been plagued by daily outbursts of anger over food shortages and an economic crisis characterised by rampant inflation. More than 100 people have been killed in related violence since April.