'Shooting at voting centre' as Venezuelan opposition holds unofficial referendum
Comments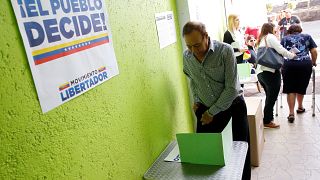 Venezuela's opposition reports two people appear to have been killed and four injured in a shooting at a voting centre. An unofficial referendum has been organised as a symbolic rejection of President Nicolas Maduro's plan to rewrite the constitution.
The opposition set up some 2,000 polling stations to ask voters whether they wanted early elections.
Maduro's opponents disagree with his plans to create a legislative superbody. He has called a vote on reworking the constitution for July 30.
Venezuela is in the throes of a crippling economic crisis. Months of anti-government protests have led to the deaths of around a hundred people.