Venezuela: Lopez vows to fight on
Comments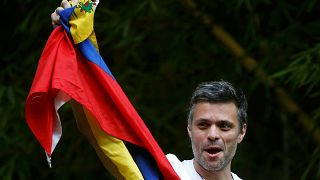 Leopoldo Lopez, Venezuela's best-known jailed opposition leader, has celebrated being moved to house arrest after three years behind bars for leading anti-government protests.
Hours after his pre-dawn transfer from the Ramo Verde military jail, Lopez appeared over a wall of his Caracas house, waving the Venezuelan flag and punching the air before a crowd of supporters who cheered and cried upon seeing him.
In a message from the 46-year-old, read out by Freddy Guevara, the No. 2 in Lopez's Popular Will party, he said:
"This is a step in the march toward freedom. I carry no resentment, nor will I give up my beliefs.
"My position against this regime is firm as are my convictions to fight for a real peace, coexistence, change and freedom."
Venezuelan opposition leader Leopoldo Lopez greets supporters in Caracas after he was released from prison and placed under house arrest pic.twitter.com/gZENtig91F

— AFP news agency (@AFP) 8 juillet 2017
Lopez was jailed for nearly 14 years for inciting violence during protests against Socialist President Nicolas Maduro in 2014 – a charge he denied.
The Supreme Court said he was granted house arrest on health grounds but his family countered that he is in good shape and he looked robust as he waved enthusiastically.
The release was aided in part by the involvement of former Spanish Prime Minister Jose Luis Rodriguez Zapatero, who has for years maintained talks with the Maduro government, Spanish Prime Minister Mariano Rajoy and Venezuelan officials said.
On Saturday, Maduro extended an olive branch of sorts.
"I as head of state accept the (Supreme Court's) decision, and what's more, I support the decision. And you all know my absolute and profound differences with LL," Maduro said, referring to Lopez only by his initials.
"God willing this decision … will be understood, and Mr. LL, after almost four years in Ramo Verde, will give a message of rectification and peace."
While Maduro may be calculating Lopez's return home will ease pressure on him, opposition leaders presented it as a triumph for their protest strategy and a sign the government was caving in.
In the recent wave of anti-government protests, at least 90 people have died.
Fresh opposition street rallies are planned for Sunday.
Protests show no sign of ending in Venezuela. Can Maduro continue to resist calls for an election to replace him? https://t.co/WuQoaMF0Wvpic.twitter.com/2fMGfhoiAW

— Al Jazeera English (@AJEnglish) 1 juillet 2017
with Reuters