Tens of thousands of people evacuated as wildfires continue to sweep across British Columbia
Comments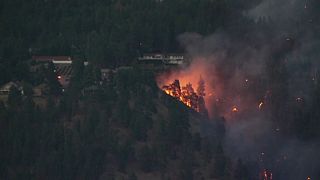 Tens of thousands of people in the southwestern Canadian province of British Columbia have been evacuated as wildfires continue to sweep across the region.
Canada has started to deploy military aircraft and 50 firefighters from Australia have been sent to try to contain and extinguish the flames around the Williams Lake area.
But high winds and dry conditions have made the task increasingly difficult, with as many as 200 fires springing up over the weekend.
Local governments issued more than a dozen evacuation notices increasing the number of evacuees from 14,000 to 39,000, most of them being forced into the city of Kamloops, almost 300 kilometers south.
The entire province is under a state of emergency and campfires have been banned as government officials face an extended forecast of hot, dry weather with possible thunderstorms.
British Columbia, which this month declared its first state of emergency since 2013, has announced C$100 million ( 68 million euros ) in emergency funds.
The fires have been burning across an area ranging from 150 km (95 miles) to 350 km (215 miles) northeast of Vancouver and have affected public utilities and industries including timer and mining.
Disruptions were expected to tighten the supply of wood products and raise prices.
In 2016, forest fires in Fort McMurray in neighboring Alberta province displaced 88,000 people and burned 590,000 hectares.