Turkey: Erdogan backs death penalty for coup supporters
Comments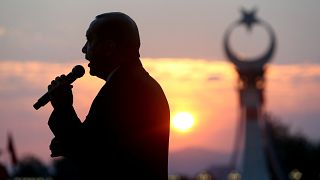 On the first anniversary of the failed coup attempt, Turkish President Recep Tayyip Erdogan's message was clear: his enemies will be punished and the death penalty should be reinstated and applied to those plotting to overthrow the government. It's a policy that would all but end any possibility of Turkey joining the European Union. He issued the warning during addresses to crowds of tens of thousands in Ankara and Istanbul.
Erdogan also said that Turkey's top security advisory body will discuss whether to extend a state of emergency that has been in place since the events of July 2016.
"On Monday we are going to assemble the state security council and discuss this issue and advise our government to extend the emergency law again," he said.
He unveiled a statue commemorating the almost 250 people who died and over 2,000 who were wounded while resisting the putsch.
A subsequent government crackdown on alleged coup supporters has seen around 50,000 people arrested.