Mourners in Iran pay their respects to murdered seven-year-old girl
Comments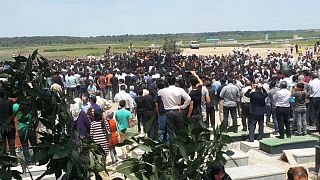 Hundreds of mourners have paid their respects to a seven-year-old girl whose rape and murder have sparked outrage in Iran.
Atena Aslani went missing last month but was found dead by police on Monday, according to local media.
The murder happened in Parsabad, which is situated in the north-east corner of Iran, on the border with Azerbaijan.
Iranians express outrage over the tragic rape & murder of seven-year-old Atena Aslani. Headline news in majority of papers. #Iranpic.twitter.com/EdTPifF38Z

— Reza H. Akbari (@rezahakbari) July 13, 2017
Every things around us is maddening…
What i can say about murder atena aslani?
What we can say???what?#atena_aslani#we_are_sarrypic.twitter.com/5Rp93uPcIo

— taha.khanmohammadi (@t_khanmohammadi) July 13, 2017