Mosul: Air strikes resume to remove remaining jihadists
Comments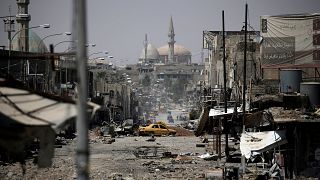 Iraqi forces have launched further airstrikes on ISIL fighters still holding out in Mosul's Old City. The fighting erupted despite Baghdad having declared victory over the jihadists.
Video of militants surrendering has been released. An Iraqi official attributed the renewed bombing to what he called "clearing operations".
"Daesh is hiding in different places," he said, using an acronym for Islamic State. "They disappear here and pop up there, then we target them."
'The memory of a normal day seemed so distant': Hear from Reuters</a> photographers on covering the battle for Mosul. <a href="https://t.co/magrsFVcyI">https://t.co/magrsFVcyI</a> <a href="https://t.co/aSfavUIrvu">pic.twitter.com/aSfavUIrvu</a></p>— Reuters Top News (Reuters) July 11, 2017
In the capital the Iraqi cabinet met for the first time since the retaking of Mosul.
Prime MInister Haidar al-Abadi, said the government was in the process of implementing a programme to help people return home. He said, but first their security and safety must be guaranteed so they can be reassured ISIL will not come back.
Prime Minister Haider al-Abadi's victory announcement on July 10 signalled the biggest defeat for the hardline Sunni group since its lightning sweep through northern Iraq three years ago.
About 900,000 people fled the fighting, with more than a third sheltered in camps outside Iraq's second largest city and the rest living with family and friends in other neighbourhoods.
One of those camps is the Hassan Sham Camp just north of the city. It has been visited by rights activist and Nobel Peace Prize Laureate Malala Yousafzai. Her mission is to promote the importance of education.
According to UN figures there are more than 897-thousand people displaced from Mosul, including thousands of children.