Courts overwhelmed a year after Turkey's attempted coup
Comments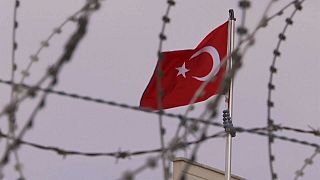 As Turkey's government prepares to commemorate thwarting the attempted overthrow of President Tayyip Erdogan, around 50,000 people remain in jail awaiting trial and 150,000 people have been suspended from work
A quarter of judges and prosecutors have been sacked, leaving under-resourced courts swamped with tens of thousands of cases against people targeted in the crackdown.
In the attempted coup rogue soldiers commandeered warplanes, tanks and helicopters, attacked parliament and tried to abduct Erdogan. Around 250 people were killed.
The president's ruling AK Party says it was planned by supporters of U.S.-based cleric Fethullah Gulen.
"Erdogan thinks if he gets rid of me, he thinks ending me will end the movement. He couldn't be more wrong." https://t.co/FlkORrE0l8

—

NPR

(@NPR) July 11, 2017
It claims they were deeply embedded in Turkey's institutions – the army, schools and courts – and that only a massive purge could neutralise the threat.
But for those targeted in the crackdown the effect has been devastating.
Stripped either of their liberty or their livelihood, they have little prospect of employment.
Critics say there's been an erosion of legal safeguards and they accuse Erdogan of using last year's attempted coup as an excuse to trample on constitutional rights.
The crackdown, as well as a bitterly fought April referendum which granted greater presidential powers to Erdogan, have strained Turkey's ties with the European Union and put its decades-old ambition to join the bloc in limbo.
Turkey's justice ministry says "procedures" have been launched against 169,000 people.
Some had used a messaging app favoured by Gulen's network, others worked at schools founded by his supporters or held accounts at a Gulen-linked bank.
Even ownership of one-dollar bills has been enough to raise suspicion. Authorities believe Gulen supporters, labelled the Gulenist Terrorist Organisation by the government, used the notes to identify fellow members.
Arrested soldiers have been paraded in court in front of television cameras, crowds throwing nooses at them in a call to reinstate the death penalty for the coup plotters.
Other detainees wait to learn their fate.
The government acknowledging that some mistakes will be made in the wide-ranging purge, and that 33,000 people have already been restored to their posts.
People wrongly caught up could also apply to a commission which is starting to operate.
Despite the crackdown President Erdogan still has strong support in the country, although last weekend hundreds of thousands of opposition supporters took paty in a rally in Istanbul.
Huge crowd rallies in #İstanbul against Erdoğan's post-coup crackdown https://t.co/LnafRaATh5#Turkeypic.twitter.com/eZ8FVGs09y

— Yannis Koutsomitis (@YanniKouts) July 9, 2017