Mexico: protesters demand action on violence against women
Comments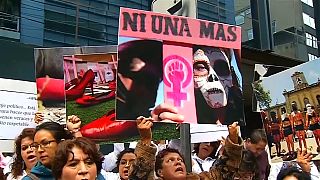 Demonstrators have marched on the Attorney General's office in Mexico City to protest against increasing violence against women.
Holding banners and chanting "Not one more!" and "Justice!", they handed in a letter demanding more action to investigate murders – according to various sources the crimes are becoming even more brutal than before.
They were led by lawmaker Alicia Barrientos of the leftist National Regeneration Movement (Morena).
"We're worried. That is why we're here, fighting and saying: 'Enough is enough! Justice now! Do something now! We're calling on the attorney general, the president, the head of the government: please become aware of the issue!"
According to the National Citizen Femicide Observatory, seven women are murdered in Mexico every day yet only about a quarter of the cases are investigated – and only two percent result in sentencing.
Families complain that police show little interest in investigating cases where women go missing – often dismissing cases as "crimes of passion".
"The government does not support us. They give us false figures and we want them to take into account all the disappearances, homicides and punish them, so they're responsible for the consequences," said women's rights activist Marta Avalos.
Over the past ten years Mexico has approved a number of laws and set up institutions to protect women from discrimination and violence.
But human rights experts say they are not being used effectively.
Critics say police forces are under-funded, and corruption and incompetence rampant.
App turns Mexican women's phones into panic buttons https://t.co/qHSJJjYIKJpic.twitter.com/hj4bydBIy2

—

FRANCE

24 (@FRANCE24) July 11, 2017