Israeli army replaces llamas with robots
Comments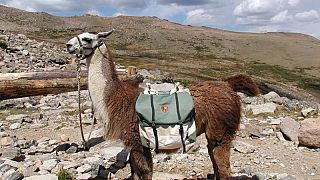 The last of Israeli army's llamas are to be pensioned off in September after years of active service in favour of speedier and less complaining robots.
The rookie robots, called "infantry robotic porters" by their Israeli manufacturers, will be able to carry up to 500 kilogrammes of water, food, ammunition and it's hoped they will eventually be able to evacuate wounded soldiers from the battlefield.
They've already participated in battalion and regimental exercises, but unlike llamas require a push up steep hills. Also unlike llamas they consume batteries every eight hours, rather than grass.
IDF to use robots instead of llamas to carry equipment on battlefield
via haaretzcom</a> <a href="https://twitter.com/hashtag/Israel?src=hash">#Israel</a><a href="https://t.co/EUN3fcM2rL">https://t.co/EUN3fcM2rL</a> <a href="https://t.co/hhrcFgD6J0">pic.twitter.com/hhrcFgD6J0</a></p>— Tom Antonov (Tom_Antonov) July 10, 2017
Soldiers had long complained that the llamas were slow and were holding them back and they've been gradually decommissioned since the Second Lebanon War in 2006.
That conflict, a month of fighting between Israel and the Lebanese Shiite militant group Hezbollah, was the last time the llamas last saw significant action.
What remains unknown, and perhaps still classified, is why Israel's military favoured llamas from South America rather than that more popular beast of burden in the Middle East, the camel.
The robots should be able to move along at between five and 10 kilometres per hour with the infantry units they're assigned to – although the army hopes to operate them remotely.
Militaries around the developed world are increasingly becoming robotic, partly to minimise battlefield casualties. Remote-controlled drones are the most obvious example, eliminating the possibility that a pilot will be killed or captured alive after bailing out of a warplane.