Iraq claims full victory in Mosul after last militants cleared
Comments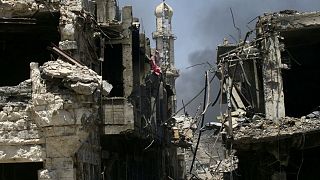 Iraqi Prime Minister Haider al-Abadi has claimed a full victory over self-styled Islamic State in Mosul.
The last remaining militants have bee cleared from the city, a day after it was recaptured by the Iraqi army.
The Prime Minister, who has already visited the city to congratulate troops, had earlier been cautious to announce a full victory.
Relieved residents in Baghdad expressed their joy.
One said: "Today is a day of honour for every Iraqi – the Iraqi flag was raised in Nineveh province and the mythical state (Islamic State group) is over. There is no place for IS in Nineveh."
During the three years of Islamic State rule, almost one million residents fled the city.
Many of them remain in refugee camps, with no home to return to.
Aid workers warned of the difficulties ahead
Melany Markham, of Norwegian Refugee Council, said: "What we need to remember is that there's a very large area around Mosul and other areas in other parts of the country that have also been devastated by this conflict. So when we look at rebuilding it's not only west Mosul that will need resources but it's the whole area around Mosul, there are towns that were home to tens, hundreds of thousands of people, that are completely deserted."