Benghazi 'liberated' says Libyan commander Haftar
Comments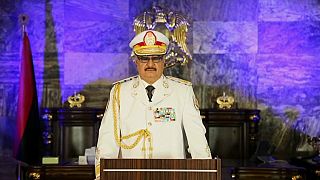 The eastern Libyan city of Benghazi has been declared 'liberated' from Islamist militants.
The announcement came from military strongman Khalifa Haftar, head of the self-styled Libyan National Army (LNA).
After a three-year campaign, victory would mark a major advance for the man who was once a commander in Colonel Gaddafi's forces.
"Starting from today, Benghazi will enter a new era of security, peace, reconciliation, harmony… reconstruction and a return to homes," Haftar said in a televised address.
Before he spoke, LNA forces made rapid progress through the seafront district of Sabri, using heavy artillery to blast their way through some of the final pockets of resistance.
#Libya eastern commander Haftar declares #Benghazi 'liberated' - report and analysis. https://t.co/KyEUZGbLkd

— Rana Jawad (@Rana_J01) 6 juillet 2017
Haftar launched his "Operation Dignity" in Benghazi in May 2014, promising to crush Islamists blamed for a wave of assassinations and bombings.
Over three years his forces have clashed with militants as well as with former anti-Gaddafi rebels resisting what they saw as an attempt to reimpose autocratic rule.
He has backing from foreign powers including Egypt and the United Arab Emirates. But his forces, which have suffered heavy losses in the battle for the eastern city, are not allied to Libya's UN-backed government.
Benghazi resident Fawzia Abdalla is already talking about the liberation of all of Libya.
"God is great," she said as celebrations spilled onto the streets.
"God bless our army and Khalifa Haftar…..congratulations for the victory!"
Despite her joy, Libya remains deeply divided, with rival powers still vying for control, six years after Gaddafi's fall.
As for Field Marshall Haftar, critics says the eastern commander's aim is to set up a military regime.
with Reuters