France honours feminist Simone Veil with Pantheon burial
Comments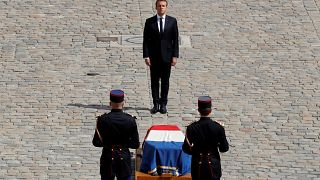 A national tribute was paid on Wednesday to the French politician, women's rights campaigner and Holocaust survivor Simone Veil who died last week aged 89.
President Emmanuel Macron, past French leaders and several European heads of government attended a sombre ceremony at the Invalides courtyard in Paris.
The European Parliament's first elected president, Simone Veil is best known in France for getting abortion legalised when she was health minister in the 1970s.
"Her struggle for an end to the sordid and deadly conditions in which abortions were carried out but also against the social hypocrisy which fostered them, is fully part of our modern history," Macron told a gathering of some 700 people.
She was Simone Veil: Holocaust survivor, driving force behind the legalisation of abortion, committed pro-Europeanhttps://t.co/OF87fDpTECpic.twitter.com/U8StgwDW41

— French Government (@French_Gov) 5 juillet 2017
"She loved and always defended Europe because she knew that at the heart of this European dream there was, above all, this dream of peace and freedom for which she battled so hard," Macron said.
"She didn't make forgiving or forgetting the persecutors the condition for this reconciliation. Far from it. She was determined that remembrance be observed so that the unimaginable does not happen again – not to diminish the horror."
Macron announced that Veil, a Jewish survivor of the Nazi death camps at Auschwitz-Birkenau and Bergen-Belsen, would be laid to rest in the Pantheon in Paris, alongside her late husband Antoine.
The historic mausoleum is reserved for great and glorious figures in French history including Voltaire and Victor Hugo.
French women's rights champion Simone Veil will be buried in Pantheon https://t.co/wzHflHQVAMpic.twitter.com/GAPvsn7qe0

— The Local France (@TheLocalFrance) 5 juillet 2017
You can watch the ceremony again in the video player, below.
Watch the ceremony in full
with Reuters