Syria: Air strike on ISIL prison
Comments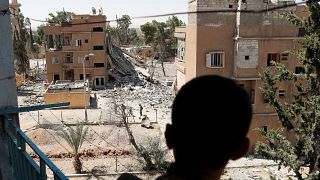 Dozens of people are said to have been killed in a suspected US-led coalition air strike in eastern Syria which hit an ISIL-run prison.
The London based Syrian Observatory monitoring group claims around 40 prisoners and 12 militants were killed.
The facility was near the city of Mayadin in Deir al-Zour province which is where its believed self-styled Islamic state has moved most of its leaders away from besieged Raqqa.
Meanwhile Kurdish fighters are continuing to advance on Islamic State positions within the city of Raqqa.
Fighters from the People's Protection Units, the YPG claim to have uncovered tunnels used by IS after retaking new areas on the western edge of the city.
The YPG is part of the US-backed Syrian coalition which began is assault on Raqqa earlier this month after a long campaign to isolate IS indie the city.
According to the London Monitoring group the coalition fight to oust the militants from in and around Raqqa are said to have cost the lives of nearly 700 civilians so far this year.
A spokesman for the coalition has said following recent air strikes in the area, it is looking into casualty reports.